This article is a stub. You can help the Ender's Game Wiki by expanding it.
Human was a Pequenino on the planet of Lusitania. [1] He was first introduced in Speaker for the Dead.
History
Speaker for the Dead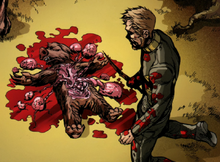 Human was an extraordinarily smart Pequenino. He was the first and only Pequenino to be brought into the Third Life by a human being, Andrew Wiggin. His Fathertree stood at the gate of the fence surrounding Milagre, next to his father, Rooter.[1]
Xenocide
Human frequently conversed with the Hive Queen through philotic connections.[2]
Personality
Trivia
Quotes
References
Community content is available under
CC-BY-SA
unless otherwise noted.