This article is a stub. You can help the Ender's Game Wiki by expanding it.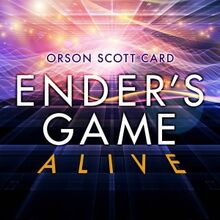 Ender's Game Alive: The Full-Cast Audioplay is an audio drama written by Orson Scott Card, based on the original Ender's Game novel.
Summary
Ender's Game Alive is directed by Gabrielle de Cuir, produced by Stefan Rudnicki at Skyboat Media, published by Audible.com, and performed by a cast of over 30 voice actors playing over 100 roles.
At over seven hours in length, this retelling of Ender's Game hints at story lines from "Teacher's Pest", "The Polish Boy", "The Gold Bug", Ender's Shadow, Shadow of the Hegemon, Shadow of the Giant, Shadows in Flight, Earth Unaware, and Speaker for the Dead, and gives new insight into the beginnings of Andrew Wiggin's philotic connection with the Hive Queen.
Community content is available under
CC-BY-SA
unless otherwise noted.